Celebrating a Five-Year Anniversary for Director of Sales and Marketing, Courtney Gawthrop
November 11, 2022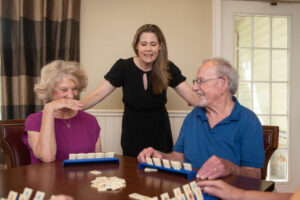 This November, Courtney Gawthrop is celebrating five years working with Liberty Lutheran in her key role as Director of Sales and Marketing for The Manor at York Town, in Jamison, Pa. Courtney loves helping new residents learn more about The Manor by exploring all that this beautiful, intimate community has to offer.
Finding Residents' Ideal Apartments
When discussing how she finds the ideal apartment for a prospective resident at The Manor, she states, "It is a fun process. When I meet new prospective residents, we discuss their budget and lifestyle goals carefully so I can find them the apartment home to meet their needs. Sometimes, it takes a little bit of time for the right apartment home to become available, but we have been very successful at satisfying residents' needs due to the highly customized nature of this environment." And, while they wait for the perfect apartment home, Future Resident's Club members love getting to know the community better by participating in fitness activities, joining us for happy hour, dining in the dining room, and attending special members only events," says Courtney.
Personalizing The Resident's Manor Experience
The attention that Courtney extends to prospective residents includes helping new residents through the process of finding the right apartment home, making decisions to personalize their new home, and preparing for their move to The Manor. "The Manor is very unique in that it makes residents feel like they are living in a small, boutique hotel," says Courtney.
Her role at The Manor at York Town is Courtney's first experience working in an active, independent living community. But, in her more than twenty-year career in senior living, she has held various positions in recreation, social service and sales & marketing, which made her well suited for her role with Liberty Lutheran. "The best thing about my role at The Manor is being a part of helping new residents make the exciting decision to move here so they can truly enjoy a carefree retirement," she explains.
Exceeding Expectations at The Manor at York Town
When asked what she is most proud of accomplishing during her five years at The Manor, Courtney responds, "Exceeding our occupancy objectives, because that is the result of our efforts and shows customer satisfaction more than any other indicator. We function in an environment that feels like we are all part of a family here."
Residents claim that Courtney, along with Executive Director, Wendy Petro, performs her job with seemingly effortless grace. "It isn't easy keeping ninety residents happy all the time, but Courtney does it with a great deal of patience and charm," according to Margo, a Manor resident.
As an essential team player in the elegant community, Courtney is not only devoted to ensuring the happiness of residents, but she also enjoys participating in planning for the future. She likes being a part of making changes to the community that maintain the beauty and elegance of The Manor, while making continuous improvements for the residents.
Congratulations, Courtney, on your five-year anniversary with Liberty Lutheran, and thank you for your many contributions that enrich the lives of residents and the entire team at The Manor!