Affordable Retirement with Financial Value
Looking for information about downsizing and selling your home, but don't know where to start? We have you covered! We had the opportunity to sit down with Darla Pompilio of the moving company, Your Task, Our Time, to learn more about how to make your move to independent living easy and hassle-free!
Want to learn more about the housing market and how to take advantage of the selling process? Brian and Mindy from Keller-Williams Real Estate and here to help:
Looking to learn more about selling your home watch our video for more information.
The Manor at York Town presents opportunities for great value with retirement living, while also providing for an active and distinguished lifestyle in the heart of Bucks County, PA.
Utilities, including electric, water, heat, and basic cable TV service
A generous per-person monthly dining allowance, which can be used for meals in the dining room, entertaining guests, take-out, or room service
A one-car garage and private storage locker
Housecleaning twice monthly and a thorough annual cleaning
Concierge services to assist with daily details and planning
Indoor pool and Fitness Center, with a personal trainer available for individual attention and instruction
Use of all Manor community areas, including reading nooks, computer centers, hair salon and barber (fee for services), game room, fireside parlor, activity room, coffee shop, club room/lounge and Happy Hour Bar
To discuss how you can enjoy an affordable retirement and take advantage of everything The Manor at York Town has to offer, click here to contact us or call at 877-265-5014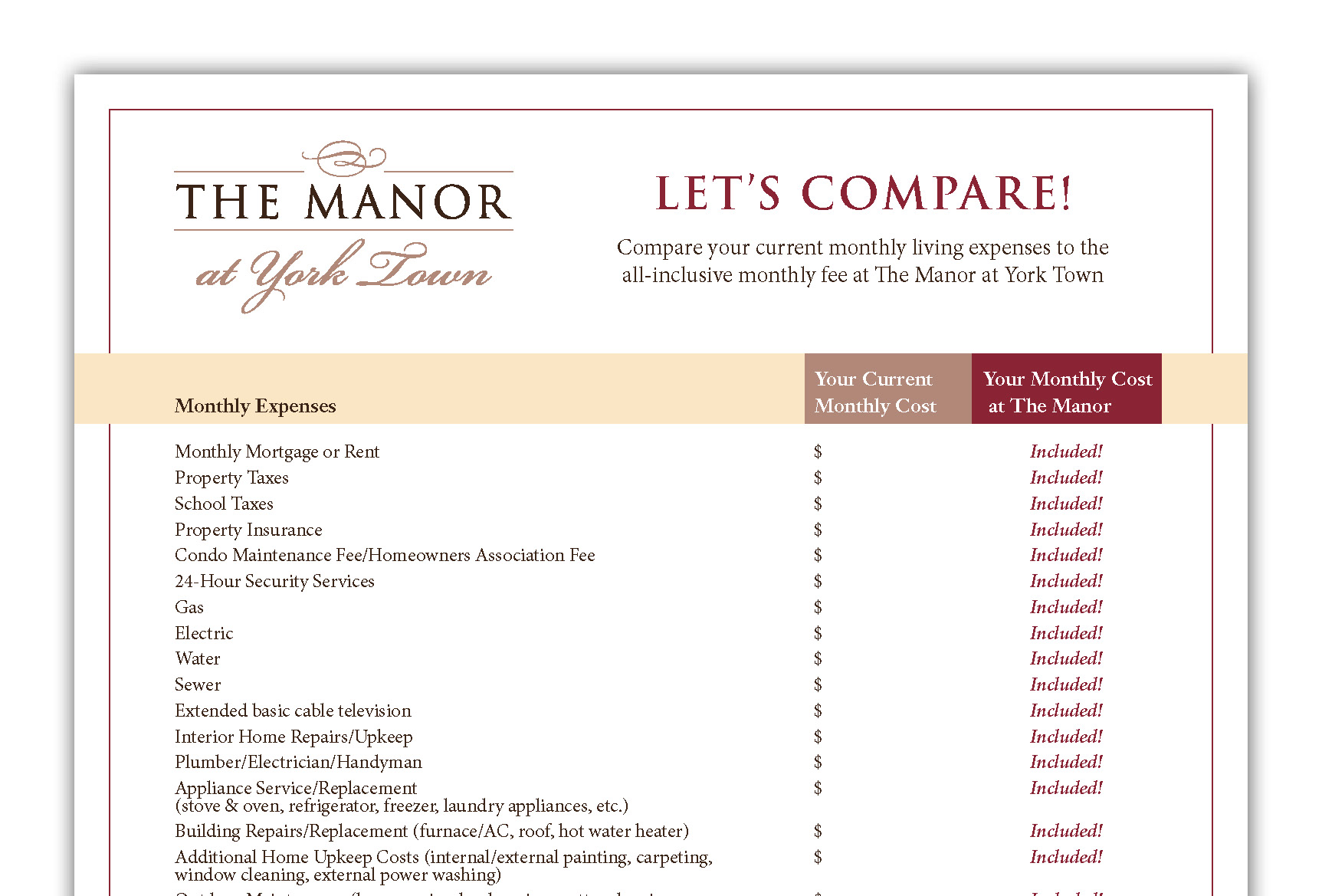 Compare your current expenses versus living at The Manor